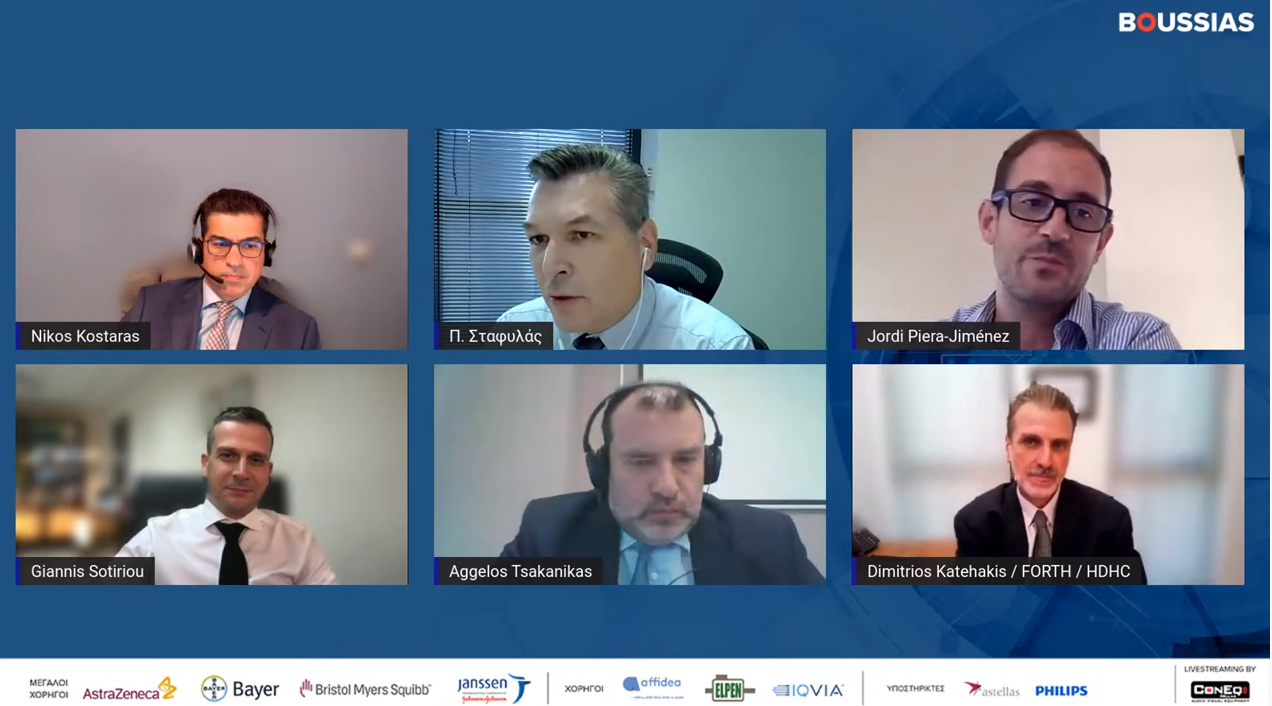 The Future of Healthcare in Greece
This year's conference focused on the health policies to build strong, resilient, and inclusive healthcare systems maintaining at the same time a strong focus on economy and continuing to fight for solidarity, equity and transformation in health, within Greece and Europe and on the global stage – for health to rise like a phoenix from this crisis.
Panos Stafylas had the honour to moderate the session "HARNESSING THE POWER OF BIG DATA TO DRIVE DECISION MAKING IN PUBLIC HEALTH IN GREECE". The panel consisted of Jordi Piera Jiménez (Director of the Digital Health Strategy Office at Catalan Health Service, Lecturer & Content Coordinator at the Executive Master in Digital Healthcare, University of Barcelona), Giannis Sotiriou (CEO, Institute of Pharmaceutical Research and Technology – IFET SA), Aggelos Tsakanikas (Scientific Advisor IOBE, Associate Professor NTUA), Dimitrios Katehakis (Head, Center for eHealth Applications and Services, Institute of Computer Science, Foundation for Research and Technology-Hellas, Director, Hellenic Digital Health Cluster) and Nikos Kostaras (General Manager, Greece, IQVIA).
7 Key messages came up during the interesting discussion:
1. Start small, think big
2. Big opportunity: the need for RWE & adequate funding
3. Develop appropriate infrastructure
4. Improve the readiness of RWD for secondary use
5. Wide consensus on the governance model
6. Develop digital skills
7. Collaboration of the public and private sector
We would like to thank the participants of the panel for their excellent presentations and discussion and BOUSSIAS and especially Natalia Toubanaki for the coordination and invitation.
Read the press release
here
.