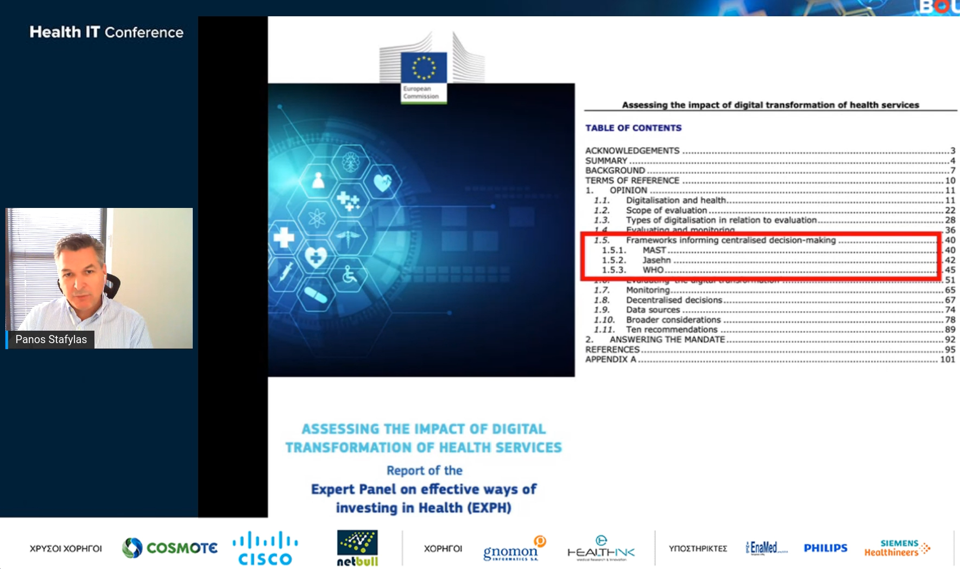 "Health IT" Conference
Dr. Panos Stafylas during his participation at the HealthIT conference, highlighted the vital importance of the structured evaluation of new technologies based on the existing Health Technology Assessment (HTA) frameworks.
The Scientific Director of HealThink discussed four key questions regarding the impact assessment of new technologies:
Do exist well-structured processes for the evaluation of the technologies used in the healthcare system?
Do we have specific aspects & factors that should be evaluated during a Health Technology Assessment?
Do exist frameworks indicated for the evaluation of #digitalhealth transformation of the healthcare services?
Do we have results from the application of these frameworks in real life settings?
At his presentation, Dr. Stafylas made an in-depth analysis of the MAST-IC and JASEHN frameworks which are proposed by the EU for the impact assessment of digital transformation of health services. He also provided data from the application of these frameworks in real life setting in EU projects.